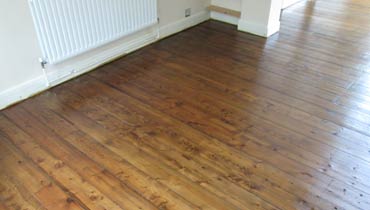 Wood floor oil finishes are something pretty new on the market. With time, the glossy finished floors are slowly offset by semi-glossy or even super-low-sheen and matt finishes, which provide more natural look, rustic feel and old-world charm. The interest in oil finishes increased on London market for the last few years. In fact, oiled floors are pretty different from your usual varnish or lacquer. Unlike the other finishes, oil products will soak in the actual wood, leaving the floor with the organic feel and texture of a wood and creating barrier to prevent the lumber surface in the same time. However, oil finished floors requires also different maintenance. A big plus is that they can be repair locally, without the urge for further sanding and refinishing. The upside of this type of finishes is that the wood floors require a lot more regular maintenance, including wood floor re-oiling every couple of years.
Before talking about wood floor re-oiling, let's clear out what to do, to enlarge the periods between this process. Industrially oiled floors need everyday cleaning routine, but they pay off with their beauty. We advise you to vacuum and dust mop daily to prevent dust scratches and dirt build-up. Such as every type of wood flooring, oil finished floors don't get along with water, so spills should be wipe up immediately. There a lot of maintenance products on London market for deeper cleaning and we will advise you the best you can choose for your flooring. The floors sealed with oil need specific products, you can't use anything abrasive, ammonia, furniture cleaners, etc. However, even well treated, you will need re-oiling service every couple of years for best results. If London based, you can count on our expert service.
Here is your step-by-step guide for precise and successful re-oiling. Depending on the condition of your flooring, sanding may be needed. In that case we use not that fine grit to open the pores of wood itself, without destroying it, so oil will be able to penetrate properly. Before starting with re-oiling, flooring have to be cleaned and checked for moisture level. The oil finish should be applied in small portions for even finish. It is a big plus, that this kind of products soak and dry quickly and the floor is ready for the next step – buffing. Flooring Services London cleaning workers use the best buffing machines London can offer, which not only closes the grain and also further drive in the finish. When excess oil is removed, we will polish your flooring until the finish has an even sheen. We pay attention to every detail and always double check, so after a closer look we will apply locally the same oil to even out the surface and provide some extra build-up. Now your have your wood floor re-oiling service done and your flooring is ready for next couple of years to be used.
Served Areas
City of London, Westminster
Barking and Dagenham, Havering, Newham, Tower Hamlets
Hackney, Redbridge, Waltham Forest
Barnet, Enfield, Haringey, Islington
Bexley, Bromley, Greenwich, Lewisham, Southwark
Kingston upon Thames, Merton, Richmond upon Thames, Wandsworth
Ealing, Hammersmith and Fulham, Hillingdon, Hounslow, Kensington and Chelsea